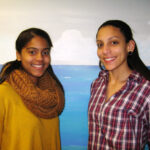 The Youth Advisory Program trains and mentors urban high-school girls and boys to participate in outreach activities with their peers in Boston and surrounding communities. The mission of this innovative peer leadership program is to positively influence and improve the health and well-being of adolescent girls. Our presentations and events are offered to community groups at no cost.
Our Youth Advisors:
Have been trained to educate their peers about health issues by providing 1 hour workshops on a variety of health topics.
Each workshop is co-facilitated by 2 or more youth advisors who are coached by a Center for Young Women's Health staff member.
We invite youth groups and community organizations to contact us to set up a time to come to our location or yours.
Train medical students and other health care providers on how to effectively interview adolescent patients.
Presentation topics are based on four key areas: Safety, Emotional Health, Fitness, and Nutrition & Fitness. Upon request, presentations can be developed on additional topics.
Here's an outline of what is covered in two of our presentations:
Self- Esteem and the Media:
Break the cycle! – Cycle of high and low self-esteem and ways to stay positive
Media and body image – Activities and critique of media images
Get Real! – Role plays and suggestions for ways to deal with negativity
Healthy Girls – "Fueling Your Body for Good Health":
Fast food facts – How to make healthy choices
Making sense of the Nutrition Facts Label
Extreme Meal Makeover
How long are the presentations?
We can usually accommodate your program by adapting our presentation to fit your time frame. Generally, the programs are 45-60 minutes of interactive discussion and activities, followed by 15-20 minutes of questions and wrap-up. At the end of the program we will ask the participants to complete a brief evaluation so that we can obtain feedback and improve future presentations.
How do I book a presentation?
To book a presentation, please contact Phaedra Thomas at the Center for Young Women's Health. Phone: 617-355-7712 | Email: phaedra.thomas@childrens.harvard.edu.
In order for us to adapt our presentation for your group, we will ask you for specific information such as the age, gender, grade level and number of girls who will be attending the presentation.
How far in advance should I think about booking a presentation?
It's best to call or email us at least 1-2 months in advance. This will also allow time to find a mutually convenient date and time and provide your group with an activity to prepare for our presentation. Since the youth advisors are high school students, all presentations must take place after school hours with the exception of vacation weeks and summer break.