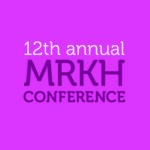 MRKH Conference for Teens and Their Families
The 2016 MRKH Conference has officially been scheduled, so SAVE THE DATE!
Saturday AND Sunday, March 19th-20th 2016 | Boston Children's Hospital
Saturday: Longwood Hall at the Inn at Longwood Medical | 342 Longwood Avenue, Boston MA 02115
Sunday: Enders Building | 320 Longwood Avenue, Boston MA 02115
Sponsored by Boston Children's Hospital Division of Gynecology and The Center for Young Women's Health
This annual conference is an opportunity for young women ages 14-25 who have been diagnosed with MRKH, and their families to come together for education and support. Our past conferences have been successful — thanks to all of our attendees and speakers! We welcome your suggestions for our upcoming 2016 conference!
Online registration is NOW CLOSED for the 2016 MRKH Conference.
If you would still like to attend the conference but did not register online, you may register at the door.
Please email cywh@childrens.harvard.edu with any questions.
For more information, please contact Phaedra Thomas, RN, BSN at 617-355-7712 or via email: phaedra.thomas@childrens.harvard.edu.
Cost to Attendees:
$25 – Individuals
$50 – Families (2 or more)
$10 – Women 25+ who are attending on SUNDAY ONLY
Accommodations:
The Inn at Longwood Medical – Best Western Boston (just 1 block to conference venue)
342 Longwood Ave. | Boston, MA 02115
617-731-4700 or 1-800-GOT-BEST (468-2378)
Online at: www.innatlongwood.com
To receive a special conference rate at The Inn, use this link to book, or use code "CYWH0316" on the Hotel's website. To receive the special rate over the phone, call the Hotel's reservation line at (617) 731-4700  or (1-800) 468-2378 and ask for the "CH Center for Young Women's Health" rate or reference the group code "CYWH0316"  when speaking with the reservations agent. You must use one of the above methods in order to get into the group at the discounted rate.
The Beech Tree Inn (Bed & Breakfast)
83 Longwood Avenue
Brookline, MA 02446
Tel- 857-267-1783
Reservations- email: info@thebeechtreeinn.com and ask for the Boston Children's Hospital rate.
Website: http://www.thebeechtreeinn.com/
Just a 15 minute walk to the conference venue. Nightly rate includes a continental breakfast. Parking available.
Boston Children's Hospital is located at 300 Longwood Avenue Boston, MA, 02115. Enders Auditorium is to the right of the main entrance.
Parking: Reduced parking rates are available in the Boston Children's Hospital Garage for guests who are commuting.
Here's the conference schedule for the 2016 event:
Saturday Morning
8:30-9:00 Registration
9:00-9:15 Opening remarks
9:15-9:45 Welcome – Susan
9:45-10:45 MRKH presentation – Dr. Marc Laufer
10:45-11:00 Break
11:00-12:30 Guest Speakers – Jaclyn and Jon, Danielle, Kaylee, Sunni Anne, and Erinn
Saturday Afternoon
12:30-1:30 Teen Lunch with guest speakers (pizza lunch included)
12:30-1:30 Parent/Families/Others (lunch on own)
1:30-3:00 Support Groups for Parents & Others

For Dads Only
Moms of Young Teens
Moms of Older Teens

1:30-2:30 Support Groups (Teens) by age

Newly diagnosed teens and Younger Teens
Young teens
Older teens
Young adults
Others (siblings, other family members, significant others)

3:00-3:30 Break for parents
2:30-3:30 Art activity or Physical activity for teens, siblings & friends
3:30-4:00 Panel Discussion and Q&A
4:00 Closing remarks and sign up for Sunday workshops
************************************************************************************************
Sunday Morning
10:30-11:30 Workshops (choose one)

"Your Sexual Self"– (for older teens and young women) Led by Cecilia Villero, MSW, sex educator, participants will have a confidential discussion about common concerns related to sexual health.
"MRKH Stronger"– (for teens) Led by World Champion athlete, Sunni Anne Ball, participants will take part in an informal movement therapy class and learn about techniques used to promote physical, mental, emotional and spiritual well-being.
"Fertility Options"– (for young women or parents) Led by Jennifer Burbridge, PhD, clinical psychologist specializing in infertility, participants will be able to learn about fertility options.
"Mindful Parenting"– (for parents only) Led by Lauren O'Sullivan, MA LMHC, participants will learn how to support their daughters through treatment and as they transition to adult gynecology.
Sunday Afternoon
1:00 Meet up – women of all ages talk about MRKH. Facilitated by Amy C. Lossie, PhD, President and CEO, BYMRKH