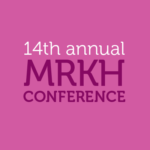 MRKH Conference for Teens and Their Families
Please check back soon for the schedule of the 2019 MRKH Conference.
This annual conference is an opportunity for young women ages 14-25 who have been diagnosed with MRKH, and their families to come together for education and support. Our past conferences have been successful — thanks to all of our attendees and speakers! We welcome your suggestions for our upcoming 2019 conference!
We are hoping to have a live webcast of the conference available for individuals who are unable to attend the conference in person. If you would be interested in watching a live webcast, please email cywh@childrens.harvard.edu for more information.
For more information, please contact Phaedra Thomas, RN, BSN at 617-355-7712 or via email: phaedra.thomas@childrens.harvard.edu.
2019 MRKH Conference Details
Date: Saturday October 19, 2019
Cost to Attendees: $25 – individual | $50 – family
Location: Boston Children's Hospital is located at 300 Longwood Avenue Boston, MA, 02115. Enders Auditorium is to the right of the main entrance, at 320 Longwood Avenue.
Accommodations:The block of rooms at the Inn at Longwood Medical is now full. If you need hotel accommodations we suggest that you try Expedia and other online sites. You may get a better rate with finding a hotel outside of the city, on the public transportation line. The closet T stop to the conference is on the GREEN line (E train) to LONGWOOD Ave. stop or (D- train) to LONGWOOD MEDICAL area stop.
The Beech Tree Inn in Brookline has limited availability for 11/2 & 11/3. Ask for the Children's Hospital rate.
TheBeechTreeInn.com, Text/Tel. 857-267-1783.
Getting here by Public Transportation (subway and commuter rail)- http://www.childrenshospital.org/patient-resources/getting-here/public-transportation
Attention Massachusetts Families: If you are planning to attend the conference and would like to host a young woman or family and provide transportation to the conference, please contact: Phaedra Thomas @ phaedra.thomas@childrens.harvard.edu
Saturday, October 19, 2019 Conference Schedule TBA