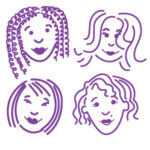 The Center for Young Women's Health (CYWH) is a partnership between the Division of Adolescent & Young Adult Medicine, the Division of Gynecology, and the Center for Congenital Anomalies of the Reproductive Tract at Boston Children's Hospital. The Center is an educational entity that exists to provide teen girls and young women with carefully researched health information, educational programs, and conferences. The mission of our website is to help teen girls, their parents, educators, and health care providers improve their understanding of normal health and development, as well as of specific diseases and conditions. We want to empower teen girls and young women around the world to take an active role in their own health care.
The Center was founded in 1998 by Co-Directors Dr. S. Jean Emans, Chief of Adolescent Medicine, Dr. Marc R. Laufer, Chief of Gynecology, and Phaedra Thomas, RN, BSN, Nurse Educator, who recognized an urgent need for education, clinical care, research, and health care advocacy for teen girls and young women around the globe. Both Dr. Emans and Dr. Laufer have earned national and international recognition for their expertise, commitment, and accomplishments in the area of young women's health. Phaedra Thomas has extensive experience in young women's health and program development.
The Center for Young Women's Health was initially funded by a grant from the Boston Children's Hospital League, an organization of more than five hundred volunteers who serve as ambassadors and fundraisers for the world-reknowned Boston Children's Hospital. Currently, the CYWH is able to continue its day-to-day operations through the generosity of the League and our ongoing supporters. The website does not accept any form of paid advertising and our sponsors do not influence the content of the health guides, except to require that the information is educational and informed by quality research.
The physical home of the Center for Young Women's Health is the Resource Center, located on the 5th floor of 333 Longwood Ave, Boston, MA, next door to the Adolescent and Gynecology clinics. The Resource Center is a welcoming refuge for teen girls and their families who need help finding information, or as a quiet place to check out health information while waiting for their appointments. We have computers with internet access available, as well as a library of books available to check out. The CYWH's youth advisors also use the space for research, training, and to prepare the health presentations they give to teen girls in the Boston community as part of the Youth Advisory Program. The Resource Center is also the professional home of the CYWH's web staff. Meet our staff and contributors.
CYWH Community Outreach: